Wordpress Plugin Installation
Step 1: Download eZee Online Booking System extension for wordpress
Step 2: Login to your wordpress website admin panel
Step 3: Unzip online-booking-engine.zip and Upload online-booking-engine directory to the /wp-content/plugins/ directory
Step 4: Activate the plugin through the 'Plugins' menu in WordPress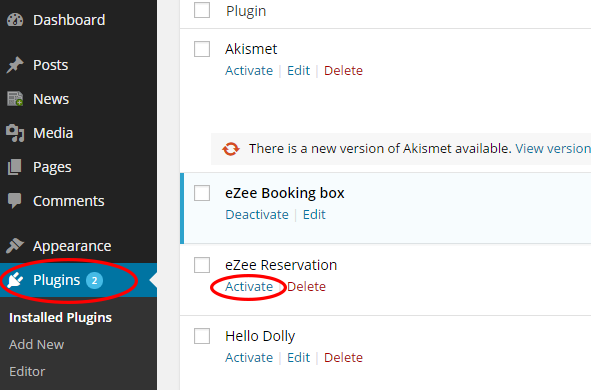 You have installed the eZee Reservation Booking Engine wordpress plugin on your server.
The data which you can see on your Wordpress website is demo account data.
---
How to get your Property data
If you want to go for your own property data (rooms , rates , inventory) , Please register with eZee Reservation. Go to link http://www.ezeereservation.com/pricing.php or contact us on [email protected]
As soon as you will register with eZee Reservation you will get admin panel account details. Before process you have to get your property code. Please check steps below to get the code.
Step 1: Login to eZee Reservation Admin Panel.
Step 2: Go to Menu Widget Booking Widget Booking Engine Settings.
Step 3: Set the Theme setup as per your choice & matched with your Wordpress website. For registered users we have team to setup everything.
Step 4: Go to Section Other Website/Social Media Integration code Select Type Iframe. Please refer screen below for your reference.
Step 5: Copy code mention in next above points & paste to the Wordpress plugin area. ( Check steps below for integration )

---
How to integrate the eZee Reservation Booking Engine system on page
Go to eZee Reservation menu paste your property code and click on update button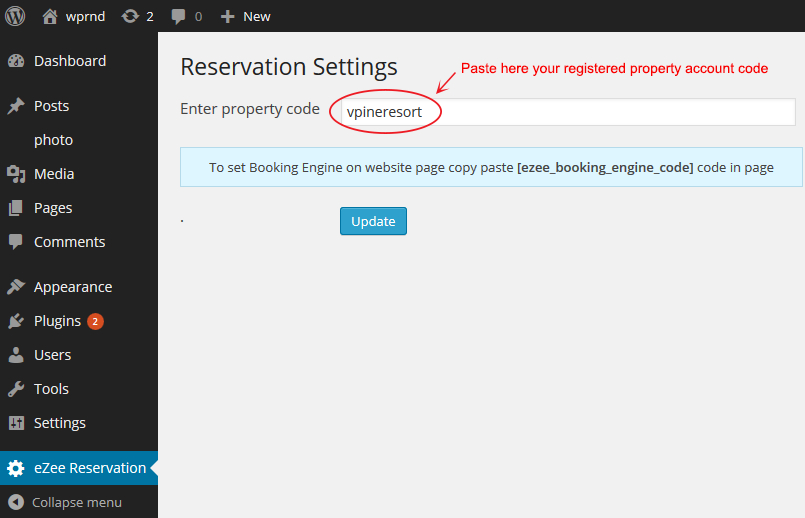 To Display the eZee Reservation on your website page. Page minimum width should be 930px. Paste the following code in page and click on update button
[ezee_booking_engine_code]
Add page to menu for the place you want to display on Wordpress website.